Smartboxx uses expert knowledge of custom fabricated enclosures, to take your idea from product brief to concept and design and straight on to volume production; what's more we guarantee an unbeatable level of service from start to finish.
Using top of the range 3D CAD-CAM software, CNC machinery and a team of skilled fabricators, we are specialists in electronic enclosures from small potting boxes to large kiosk and POS stations. We have recently worked some exciting projects, including the latest electric vehicle charging stations and new, innovative shopper/consumer technology enclosures! No job is too big or too small and we pride ourselves on leading the tool free enclosure solutions market.
Regardless of whether your design is already in circulation, needs a revamp, or has just started its journey as a 3D model; we will pick up your development at any stage and ensure you reach your goals. What's more, there is no tooling required, enabling us to provide you with a cost-effective method, within a short timeframe.
Our custom fabricated enclosures are fully specified by you – from the material grade and type, to the colour, size and PCB mounting methods.
Not only do we provide an expert service such as custom fabrication, but also a whole host of customisation methods, taking your enclosure to new levels. We provide coatings of your choice such as conductive and EMI/RFI shielding, gasket seals up to IP65, pre-cut holes for protruding connectors and components or LCD screens; you name it, we do it.
The Smartboxx website recently had a new look. Features were added, such as the quick enquiry form, a complete portfolio of our past and present projects and an insight into the development process.

To kickstart your journey, find out more about the Smartboxx story, or just to see what we are capable of then, visit the website using the link below.
Case study example – Humans since 1982:
Who are Humans since 1982?
Creators of exceptional works of art and innovator of the 'A million times' clockwork design. In their own words Humans since 1982 explain:
"Humans since 1982 defy easy categorisation. Their provocative sculptures and experiential installations are driven by a shared curiosity and desire to make sense of the world.
Signatures within their practice include the elevation and subversion of everyday objects including clocks, smartphones and surveillance equipment, visual puns and the pursuit of obtaining the unobtainable. With equal parts playfulness and meticulous process, industrially produced objects are liberated from their administrative functions to become visually engaging and technically challenging artworks"
What were this projects goals?
Humans since 1982 set out to design their biggest 'A million times' display yet with the help of Smartboxx's custom fabricated enclosures. Their job? protect their PCB's from dust.
"How time designs and how to design time?"
Using typography, the clock hands are relieved from their conventional role of following a clockwise movement. Manipulating the way, a clock would normally work or Metaphorically controlling the symbol of time.
Displayed in Changi airport, Singapore, the clocks do not follow the hour and minute hand as they normally would, but instead stop when they like and sometimes go backwards. Humans since 1982 turned them to rhythmic art.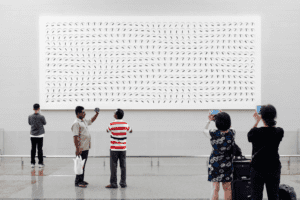 Whilst producing elegant shapes in perfect synchronisation, the wall of hands accurately tells the time. Together they make up one of the biggest kinetic artwork pieces in the world. At 7.5 metre amplitude its face is wider than that of London's, Big Ben.
Concept to market
Humans since 1982 came to us one thing in mind. A custom enclosure solution to house and protect the 100's of PCB's that would make this fantastic display work. From start to finish our design engineers supported and discussed the requirements of the project; and with the initial design specifications understood, set to work on the custom housing.
Design changes were made to address improvements and evidently, in the end, our client was left satisfied.
https://www.smartboxx.co.uk/humans-since-1982
Get in touch with the Smartboxx team using the number or email address provided below, alternatively, you can start your process on the Smartboxx website.
Phone: +44 (0)1842 766557
Email: sales@smartboxx.co.uk