Since COVID19 first broke out in Wuhan, China in December 2019, it has caused over 998K deaths worldwide and 33.1M confirmed cases in 188 countries. On March 11th, 2020, World Health Organization confirmed the Coronavirus a pandemic and titled it COVID-19. A pandemic is the term used for a disease which is spreading between multiple people and counties at the same time – in other words – a potential threat to humanity. Since the virus first kicked off, I have been documenting how the public speculated COVID19 and public consensus of the country's actions in correspondence to the pandemic. My studies have been condoned via 'polls' on @elecbom Twitter channel and have been spread over the past five months. Within this article I will be sharing the results of our most popular polls circulating around the virus and discussing with industry professionals what they really thank about COVID19.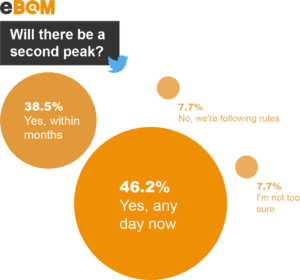 Poll 1: Will there be a second peak?
I was not surprised the winning answer was 'Yes, any day now' as the poll was posted during the BLM protests which many individuals, including myself, thought this may provoke a second peak. However, as far as we are all aware, there has not been.
Poll 2: What does everyone think of the pubs reopening?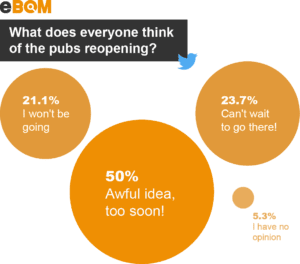 As you can see, most voters chose 'awful idea, too soon!' which opened again on 4th July 2020. Surprisingly, 23.7% voted that they 'can't wait to go there' which suggests there are mixed views on COVID19 and whether we should be attending social events such as pubs and restaurants. Overall, I was expecting similar results and understand why the 21.1% of voters will not be attending the pub immediately after they opened.
Poll 3: What does everyone think of the Spain quarantine rule?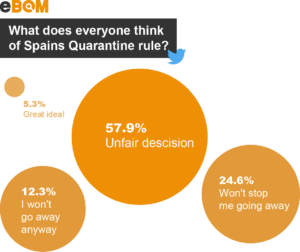 This was by far our most popular poll. On July 24th, 2020 there was a surprise announcement from the Government that English residents traveling back from Spain will have to condone a two-week quarantine if you travel back on or after 26th July. As you can see over half of the votes were for an 'unfair decision' and 24.6% voted that it 'won't stop me going away'. In my personal opinion, I expect there will be other countries with this two week quarantine rule put in place within the next few weeks, but then again, we don't know what to expect when it comes to this virus.
Poll 4: What does everyone think of the face mask rule from July 24th?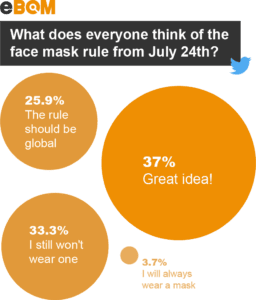 As can be seen, it was quite a close vote with the top thee winning choices. It appeared that most voters thought the face mask rule was a 'great idea' whereas 33.3% voted they 'still won't wear one'. The rule was put in place from July 24th that in all UK shops it will be mandatory to wear a face mask. I personally think this is a wise idea from the Government to supress the virus and prevent further spread.
Poll 5: What does everyone really think about Coronavirus?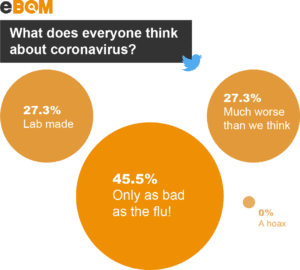 Interestingly, no one voted that they thought the virus was a 'hoax' whereas I have heard many conflicting theories. The winning vote by far with 45.5% was 'only as bad as the flu'. This came as a surprise to me as if the virus were genuinely only as bad as the flu, surely, we could just carry on as we were this time last year? However, 27.3% voted that it is 'much worse than we think' and with the same number of voters voting for 'lab made'. Along with theories that the virus is a hoax, I have heard theories that the virus was lab made. However, I do not think this is something we will ever find out and it may just be a news theory to get people talking.
Poll 6: Do we think the furlough scheme should be extended?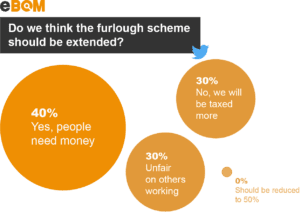 The furlough scheme has saved many households, individuals, and businesses from struggling with money or even 'going under'. I personally think this was extremely generous from the Governments behalf and has helped keep the economy ticking over. We all recognise that we will have to pay back most of this money is tax which is why it came as no surprise that 30% voted 'no, we will be taxed more'. Then again, another 30% voted that it was 'unfair on others working', which also came as no surprise.
Let us hear what the industry professionals have to say:
SOS Electronic: At this time, we have not detected any specific interruptions within our supply chain. However, delivery dates for certain products may ultimately be affected in the future. Therefore, we cannot guarantee them with certainty, and we encourage customers to place new orders in time to avoid coronavirus problems that may affect their business.

Mouser Electronics: Regarding travels, we have restricted all travels to Asia and within Asia. We have recently also stopped all travels to Italy and are limiting all other travels to Europe, within Europe and to/from USA. It is highly likely that we will see very few people flying for at least the next month, unless exceptional circumstances, and we see the same from most of our supplier partners. As the situation changes, we will review. We have ensured all offices globally have masks available as well as sanitizer to clean hands plus re-emphasizing good hygiene rules.

Digi Key: At Digi-Key, our thoughts and prayers go out to everyone impacted by COVID-19 worldwide, and our primary concern is for the health and safety of our team members, customers, and business partners. Our business model positions us with substantial inventory to offer minimal disruption to our customers, and we have worked closely with our multiple carrier partners to mitigate impact on cargo plans. We are providing updates and FAQs on our website for our customers and we are in constant communication with our suppliers.

Farnell EMEA: "The COVID-19 pandemic has had a huge impact on the way businesses operate and how they interact with customers. One significant challenge for distributors has been in the way that we manage our supply and demand criteria to ensure vital products are delivered as quickly as possible to the people who need them most. Despite the challenges brought about by the COVID-19 pandemic, we sought to maintain service levels wherever possible, and have increased our support to companies seeking to equip and protect front-line workers against the virus. We implemented a new urgent critical medical order process to expedite the despatch of components to customers working in the health sector, as well as manufacturing partners who have refocused their operations to increase production of medical products. This has increased the speed at which shipments for a range of medical equipment, including ventilators, testing kits and front-line essentials such as power supplies, are delivered."
By Amy Leary, Marketing Manager at eBOM.com