By adding more new Wiha combinations and installation pliers, SOS electronic has increased the variety of product offerings. These insulated pliers are extremely effective, long-lasting, tested at 10 kV AC, and have a secure non-slip grip. Which ones are best for you? (I read for two minutes.)
MARTIN BRESTOVIČ SOS electronic Product Specialist More articles from the author
In SOS electronic you have access to a variety of tools, and the distinctions between below-average, standard, and high-quality work are mostly found in the small details. In the end, whether you're a professional or a DIYer, attention to detail is important while using hand tools. Providing an overview of five new Wiha professional tools for servicing and repair was Martin Brestovi of SOS Electronic.
Quality pliers from Wiha for comfortable, secure, and simpler work
Wiha industrial electric series of insulated tools is designed for the most demanding daily work even on energized equipment. 
We are accustomed to this brand's items having outstanding ergonomically designed and constructed tool handles. This series' metal surface has a tough layer of chrome plating over it. The nippers' cutting surfaces are designed to cut with the least amount of effort feasible. Wiha tools are produced in line with DIN ISO 5745 and IEC 60900. Each tool is independently tested at a 10kV AC voltage and is approved to operate on equipment with a maximum voltage of 1000V AC. 
Overview of new WIHA products in our portfolio
Combination pliers by Wiha
Z 05 0 06_160 (26720) are combination pliers that are 160 mm long, they are also known as needle nose pliers and are excellent for gripping, handling and cutting cables and wires.
Combined pointed pliers' type Z 05 1 09_200 (35462) are 200 mm long. They are very similar to the previous pliers, however, their tip is bent by about 40°. They are equally suitable for gripping, handling, and cutting off cables.
Cutting nippers by Wiha
Unique Wiha cutting nippers that save working time, as well as space in the work bag, are the installation pliers from the TriCut professional series known as TriCut Z14 1 06 (38552).
We can cut the cable, take off its sheath, and strip out the separate cores with just one tool. We can work even in cramped spaces, like installation boxes in walls and the like, thanks to the bent head.
Other pliers by Wiha
Flat pliers type Z 07 0 06_160 (26732) have a length of 160 mm and are mainly intended for handling wires and bending them to a right angle. Moreover, they are also suitable for bending sheet metal. 
Round pliers that can be found under the name of Z 09 0 06_160 (26735) are long pliers with a round nose intended mainly for gripping, manipulating and shaping the wires, e.g. into the shape of an "eye", as well as for working with sheet metal.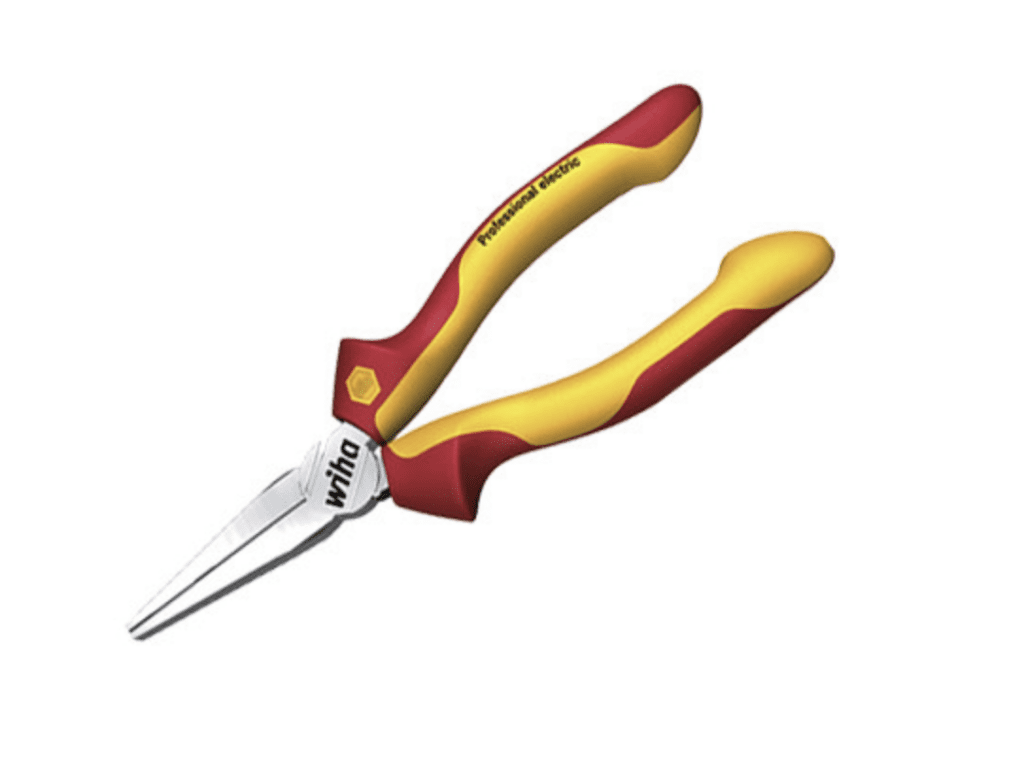 SOS electronic has included all five new types of pliers from the manufacturer of premium hand tools for professional use in the industry, Wiha, in their product offer. Choose from SOS electronic stock selection. They will be happy to provide you with other professional tools for the service and maintenance of equipment upon order in the shortest possible time and under favorable conditions. 
VIDEO: Three Functions – One Tool
The specially angled plier head ensures that cables are stripped and skinned lengthwise along the cable and pliers, using an ergonomic approach that saves users from applying excessive force. The TriCut thus offers a decisive advantage over other pliers, especially in confined spaces such as junction and distribution boxes.

Are you interested in more information about Wiha products or technical advice when choosing a product? Or do you have another question or request? Please contact SOS electronic sales representatives at sales@soselectronic.com.
Do not want to miss out on any technical news? Follow SOS electronic on social media Facebook, LinkedIn, YouTube, Twitter, and Instagram.