Give machine operators the impression that they are driving a high-end vehicle on a building site, a farm, or in the field. Safe and simple OFF-ROAD mechanism operation is a given with the central control unit from the Marquardt 3583 series. (two minutes of reading)
PAVOL BUHLA SOS electronic Product Specialist More articles from the author AUDIO VERSION
A short introduction of the new series of Marquardt control units was prepared by Pavol Buhla, a product specialist from SOS electronic.
Marquardt 3583 – in any circumstances, a safer and more user-friendly operation
Marquardt, a leader in the automotive sector, offers a control panel with switches that have the ideal tactile response for safe operation even under the most difficult circumstances. The series of control modules Marquardt 3583 is primarily intended for OFF-ROAD mechanisms. According to the manufacturer, these are construction or agricultural machines that do not drive independently on standard roads.
The Marquardt control unit contains the main central element – a large rotary encoder with a diameter of 60 mm.
It fulfils three functions at the same time: a button, a four-way joystick and a rotary button at the same time. There are three more buttons above and below the central button, so there are six buttons around the central element.
Thanks to the robust and distinctive ergonomic design of the control unit, the operator of the device can feel it easily even blindly and controls it intuitively. In case of worse visibility or during night operation, the backlight of the control module is practical and very important. This function is optional and available in different designs, be it color, method, or intensity of the backlight.
Features and benefits of Marquardt 3583 series control units: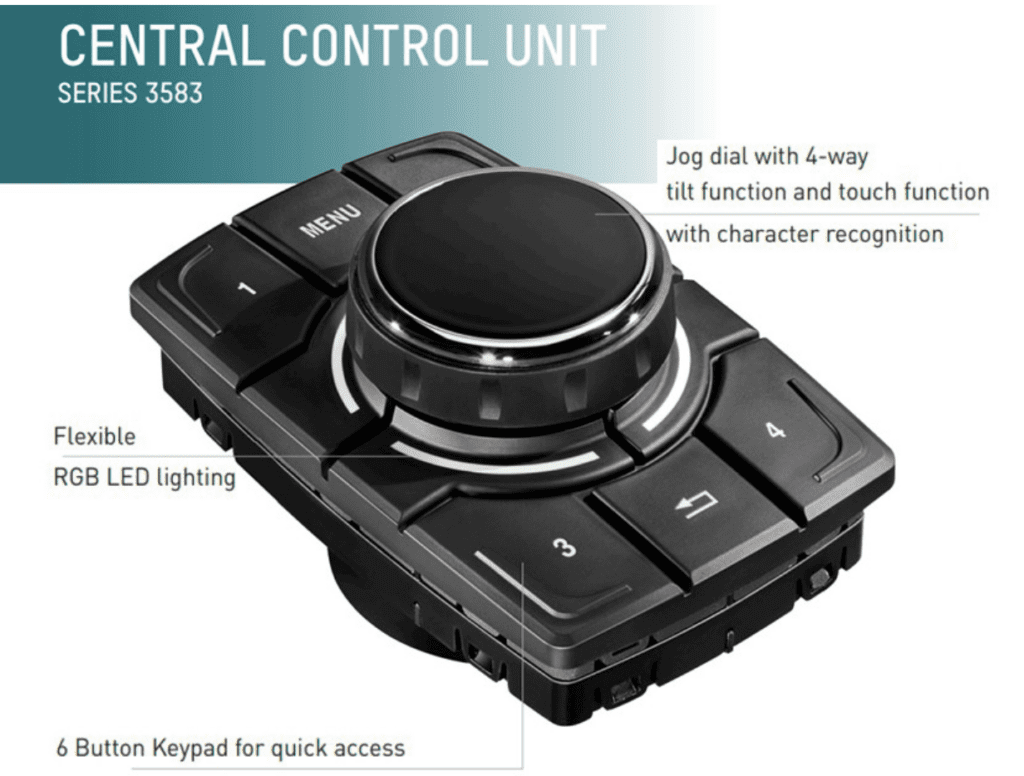 Dimensions:

135 x 86 mm

Design depth:

19 mm + 33 mm

Power supply:

9 – 36V DC

Communication:

CAN bus

Degree of protection:

IP54

Possibility of backlighting the buttons and the rotary button:

white / RGB LED

Operating temperature range:

– 40°C to + 85°C

Suitable mating connector for connection:

4-pin from MQS series by TE Connectivity (1-967640-1)
Lifetime:
Buttons / central button / central rotary button / central "joystick"

200 000 / 1 000 000 / 1 000 000 (360°) / 250 000 cycles (in each direction)
Control modules of Marquardt's 3583 series can be found in the special switches group on SOS electronic website, available upon order. To get a sample, contact the sales representative for your region.
Are you interested in more information on Marquardt products or technical advice when choosing a product? Or do you have another question or request? Please contact SOS electronic sales representative at sales@soselectronic.com