Creating and maintaining a complete online portfolio of free, easy-to-use engineering tools, including a full suite of low-cost EDA and design tools, is one way Digi-Key Electronics, a global electronic components distributor, continues to support future engineers throughout their education.
The design tool solutions are formulated to help designers at all levels through the entire design cycle to shorten the time from design to production. The portfolio includes free diagramming tools all the way to the most robust professional full PCB schematic capture and layout functionality. Digi-Key offers four unique and complementary tools: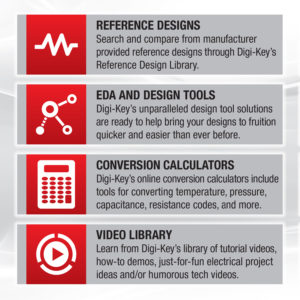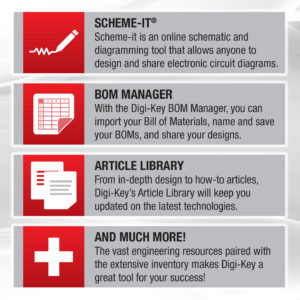 Other helpful tools students will find on the Digi-Key website include:
Reference Design Library: Search and compare from manufacturer-provided reference designs
Conversion Calculators: Include tools for converting temperature, pressure, capacitance, resistance codes, and more
Video Library: Learn from a variety of tutorial videos, how-to demos, just-for-fun electrical project ideas, and/or humorous tech videos
BOM Manager: Import your Bill of Materials, name and save your BOMs, and share your designs
Article Library: From in-depth design to how-to articles, Digi-Key's Article Library will keep you updated on the latest technologies
And much more!
"Tools are the place where all designers must spend some time to get the project brought into reality. Digi-Key would like to make that process as easy as possible with the greatest efficiency while working in those tools," said Jeremy Purcell, Program Manager – Digital Design Tools, Design Support at Digi-Key. "We provide students with tools that will help them in all aspects of the design process. We aim to grow our content as you grow your ideas. Together we can build lots of great things."
---
For more information about the company's complete EDA & Design Tool portfolio and other online tools, please visit the Digi-Key website.
---